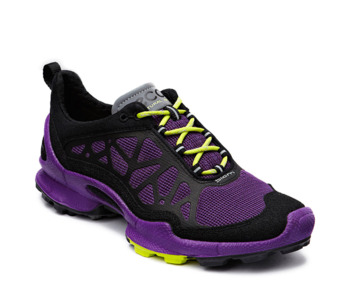 My feet have enjoyed a pair of ECCO BIOM Trail shoes for the past two days. On Monday, I ran an easy 9K on a combination of road and trail, and today I did 17K in them, most of which on trail.
My first impressions of these shoes, provided to me by ECCO, a Danish shoemaker with almost five decades of experience, are very positive in terms of comfort and feel, and I am looking forward to putting more miles on them.
According to ECCO, this model is part of their so-called Natural Motion products.
"The BIOM Trail shoe translates ECCO's advanced Natural Motion system for the needs of offroad running, featuring more support, tougher construction and aggressive mult-terrain action. The shoe strengthens the feet and lower legs and increases running efficiency.
"The basis of BIOM Natural Motion is to provide anatomical cushioning while guiding the body to move naturally and to strengthen," according to ECCO, which has been offering running shoes since 2009.
I didn't know ECCO made running shoes and have to say that so far I'm quite liking these. I don't know about the above claims and don't necessarily care; my running shoes are a big deal to me and the proof is always in the pudding.
How much wear they get is how good I consider them to be for my feet and the type of running I'm doing. I'm not a hardcore trailrunner but cover plenty of trails in my training.
Since I reviewed a pair of New Balance REVlite 890s (
for IMPACT Magazine
) about a year ago, I have fallen absolutely in love with them and am onto my third pair now. These are road shoes, of course, but I wear them on the trails I cover here too.
Like I had with the REVlites, I felt love at first fit with these BIOM ECCO Trail shoes. Let's see if this romance turns into a long-term relationship. I'll keep you posted.